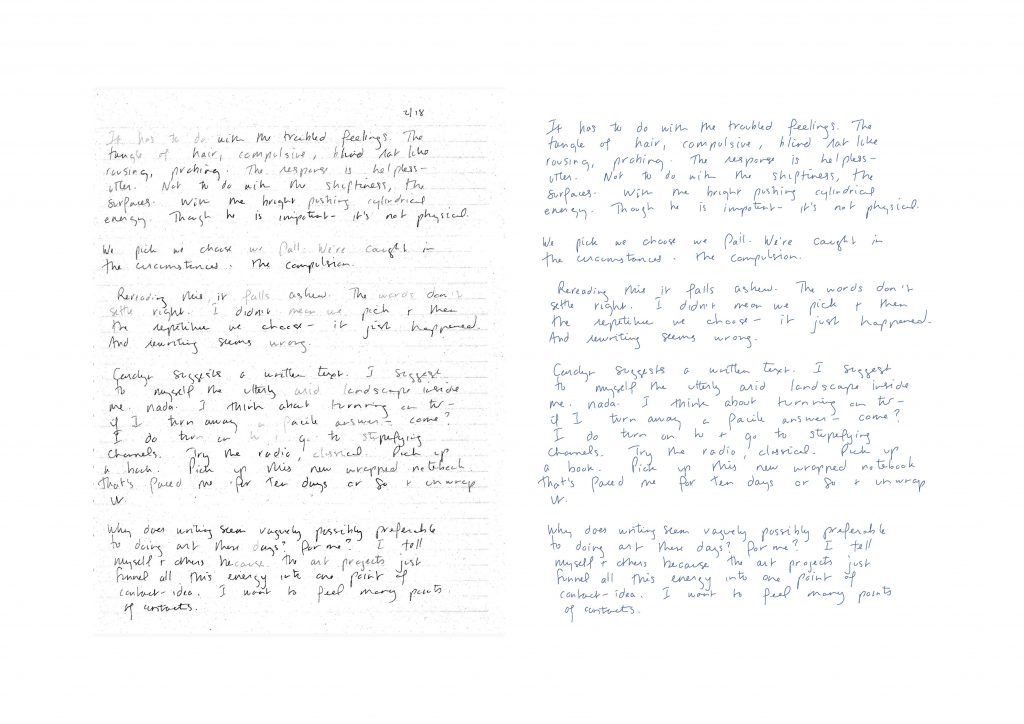 I took the train on the wrong day.
I was on my way to Stuttgart to visit a friend, but it was a day earlier than the original reservation date. The ticket inspector checked my ticket and told me to get off the train. I was kicked off the train a long way from Stuttgart, but I found myself quite close to Mönchengladbach. I recalled there was an exhibition of Laurie Parsons, a Body of Work 1987, at the Museum Abteiberg in Mönchengladbach. It was still early in the day, so I decided to see the exhibition. This is how I came across Laurie Parsons.
In the preface to her exhibition, I learned that she quit her art career and became a caretaker in a hospital for the mentally ill. I wanted to know what inspired her to take this path. The work in the exhibition space was a combination of 31 objects she picked up from the street around her studio. The objects were leaning against the walls and the space was naturally lit from the windows. Although her work gave me a certain affection with a few clues, there wasn't enough to understand her and her practice. And she had excommunicated the art world so there was no way to reach her anymore.
As I began to follow my curiosity, I found that there was extremely limited information about her and her work. I traveled to several cities in the Netherlands, Germany and the United States in search of her traces. I sent her a letter, but didn't get an answer. I went as far as visiting her town, but couldn't bring myself to ring the doorbell.
Around that time, I learned that she had made 500 photo-copies of her diary as part of the exhibition On Taking a Normal Situation and Retranslating it into Overlapping and Multiple Readings of
Conditions Past and Present at M HKA, 1993. I couldn't find the copy anywhere, so I spoke with Marietta Dirker, a librarian at Rijksakademie. She found the copy in the library of Willem de Kooning Academie in Rotterdam. It is the only registered copy in the world. It has been kept in the care of the librarian Wilma Knoll since 1993. After the library's summer vacation, I went to see her and asked if I could see the book, and she generously loaned me a copy of the diary, subject to some promises.
Anticipating the answers the diary might hold, I was happy. After opening the diary, I was frustrated. Her handwriting was unreadable and I am not that familiar with English handwriting in the first place. In an effort to read the diary, I began to trace the handwriting. Over the course of a year, I learned to read her handwriting by following the movement of her hand, tracing all 120 pages of her diary. Through this process, another handmade copy was inevitably created.
I thought I would exhibit the results when the tracing was finished, but I found the following excerpt in the middle of her diary:
"Tremors today. If it was not clear that this project disseminates with the 'show'. That none of this is to be ever reprinted in any form or ever exhibited. No fair use or anything else. It should dissolve when the 500 go + they should go to person to garbage or as gift or shared with another, no buying + selling please. Or it no longer exists, dies. That act automatically eradicates."
Edited by Ian Page from Kam's notes